The ESG Technology Dialogue 2021 is part of the Singapore Transport & Logistics Insight Series 2021, where the launch of CO2X platform was announced by ESG during the Tech Dialogue event, as part of ESG's initiative to drive digital transformation and business innovation between industry players and technology partners.
CDAS had signed a Memorandum of Understanding (MoU) together with CO2X (CO2Connect) and key industry and association leaders from the Transport and Logistics, and Finance sectors. Witnessed by Law Chung Ming (Executive Director for Transport and Logistics, Enterprise Singapore (ESG)), and Kwok Quek Sin (Executive Director (Green FinTech), FinTech and Innovation Group, Monetary Authority of Singapore (MAS)), the MoU signals the commitment to jointly develop a platform that will provide local small and medium enterprises (SMEs) with accessible carbon tracking solutions and green financial services through a data-driven approach.
The CO2X platform leverages on the expertise of its founders in emerging technologies such as the Internet of Things (IoT), Data Analytics and Blockchain technologies to help businesses and the financial sector navigate the complex regulatory and costly certification frameworks that hinder the adoption and financing of sustainability practices, especially for SMEs.
Through the CO2X platform, companies will be able to track their carbon footprint to achieve benchmarking and devise data-driven emission reduction strategies that in turn help reduce the fuel and energy costs of doing business. They can also use the data and reports offered by CO2X to undergo green certification against international standards. CO2X also goes one step further to attract green financial services like sustainability-linked loans and insurance products through the issuance of certified carbon avoidance certificates captured on the blockchain.
Mr Peter Ho, President of CDAS, and the CEO of Wing Seng Logistics Pte Ltd, commented:
"CDAS is proud to be supporting Singapore's Green Plan roadmap to reduce carbon emissions in the industry, and will support efforts to reduce its carbon footprint
Mr Ricky Loo, Deputy President of CDAS and CEO of CWT Integrated, shared:
"Sustainable development strategies are a priority for many companies. At CWT, we embed ESG and technology in the company to optimise operating and cost efficiency, reduce carbon footprint and create a great workplace culture while ensuring effective corporate governance. By taking responsibility for changing the way we operate, we benefit the environment, help customers succeed and communities thrive."
You can read more about it at https://co2connect.com/press-release/
CDAS Deputy President, Mr. Ricky Loo, was also part of the tech dialogue panelists, moderated by ESG Executive Director for Transport and Logistics sector, Mr. Chung Ming Law where he and his fellow panelists shared about their virtual learning journeys, and their technologies adoption and transformation effort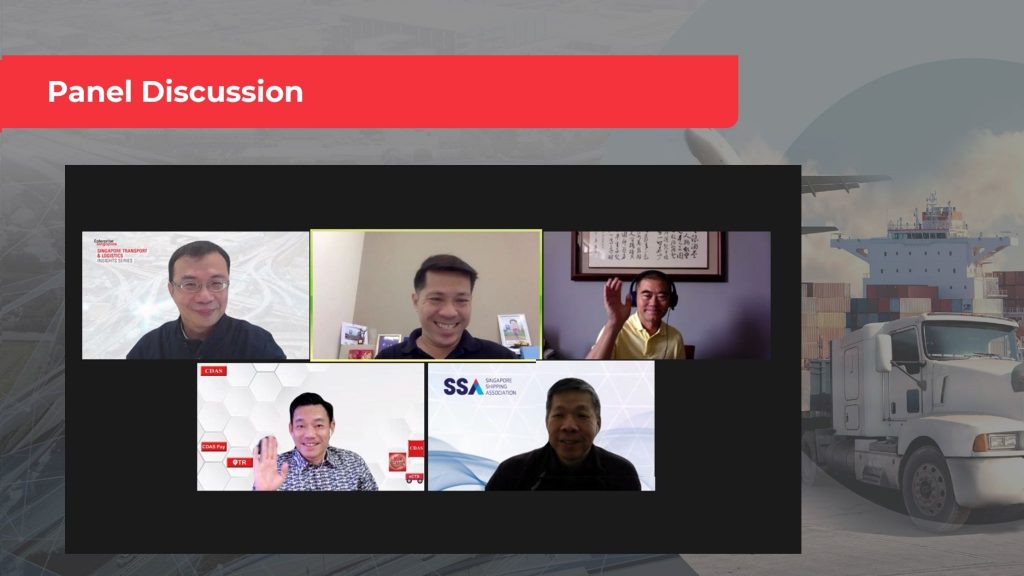 Mr. Loo in particular shared extensively about the journey his container depot took, together with CDAS in transforming the industry and digitalizing the many manual processes in the logistics and transportation sector, through our previous initiatives such as Container Management System (CMS)and CDAS Pay, the cashless payment solution among others.
Generally it was agreed that digitalization is no longer a matter of simply transforming the business, but is also a must, in order for businesses to survive.
CDAS will continue to bring about more initiatives to help uplift the industry and improve the working conditions of its workers. Stay tuned as we have more exciting things to come!