CDAS showcased the Container Tracking System (CTR) at the CDAS Lunar New Year Celebration 2020.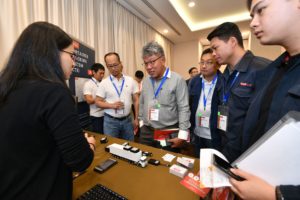 CTR was introduced to tackle the ongoing problem faced by hauliers of tracking their assets.
CTR will help address the user pain points by providing:-
24/7 Real-Time Tracking for Prime Movers and Lorries
Seamless Asset Tracking of trailers
Fleet performance analysis – such as overspeeding, alerts, route playbacks, and mileage reports
Remote truck immobilizer for unauthorized use
Cargo Information
Traditionally, fleets are only installed with GPS trackers that provide fleet management information such as location, speed, mileage etc. While this is useful for fleet maintenance, clients are more interested in the status of their cargo. Often fleet owners will need to engage multiple vendors for these solutions that cater to security monitoring, temperature & humidity monitoring and asset tracking.
CTR will allow truckers to have a one-stop solution and allowing them to create further value for their customers. By utilising the extended range of CTR IoT devices together with the fleet management system, users will be able to gain real time insights into the condition of the cargo and location of loose assets inside the hold while in transit.
CTR provides for a compact GPS tracker that can be discreetly installed into vehicles to provide tracking for vehicles. This system goes beyond standard fleet management and offers customers access to IoT functionality with the same set of hardware. CTR is able to support the a range of IoT sensors to perform security tracking, asset location and temperature sensing of cargo while in transit. This is perfect for customers involved in last mile delivery, cold chain logistics and those that manage roller cages and pallets across multiple locations. Users will be able to satisfy both their FMS and IoT requirements in a single deployment.
The CTR Fleet Management System is a powerful feature rich platform that provides customers with data relating to their fleet operations at their fingertips. Customers can access this platform on demand through web and mobile applications to track their fleet. With the capability to generate customised reports that are exportable into PDF and Excel format, the CTR FMS can easily support customer reporting requirements. These reports include historical location, speed, mileage, trips, duration and idling time. Customers can utilise these insights to address operational inefficiencies related to driver behaviour, fuel wastage and time loss using the data on fleet performance. The system will be able to show security status, temperature and asset tracking information in real time and in custom reports.
The CTR Fleet Management System is also API ready and can support integration to existing customer systems for interoperability.
For enquiries, please write to us at ctr@cdas.link .